Fiver Fest comes to The West End Plymouth. Shoppers are being offered a range of £5 deals at some of Plymouth's most popular businesses as part of the innovative Fiver Fest in the West End Plymouth.
Where will you be heading?
Andy's Meats
Family-run butcher Andy's Meats is offering tasty Family Meat Packs for £5 – packed with flavour and value.
Inside you'll find flavoured or plain sausages, chicken legs, chicken fillets, homemade beef burgers and beef steaks during FiverFest.
Andy's Meats offers quality fresh and frozen meat as well as discounted frozen goods including pies, pastries, cakes, fish, vegetables and chips.
Find them on the outer edge of Plymouth Market at 106-108 New George Street or call 01752 941785. Open 8am-5pm, Monday to Saturday.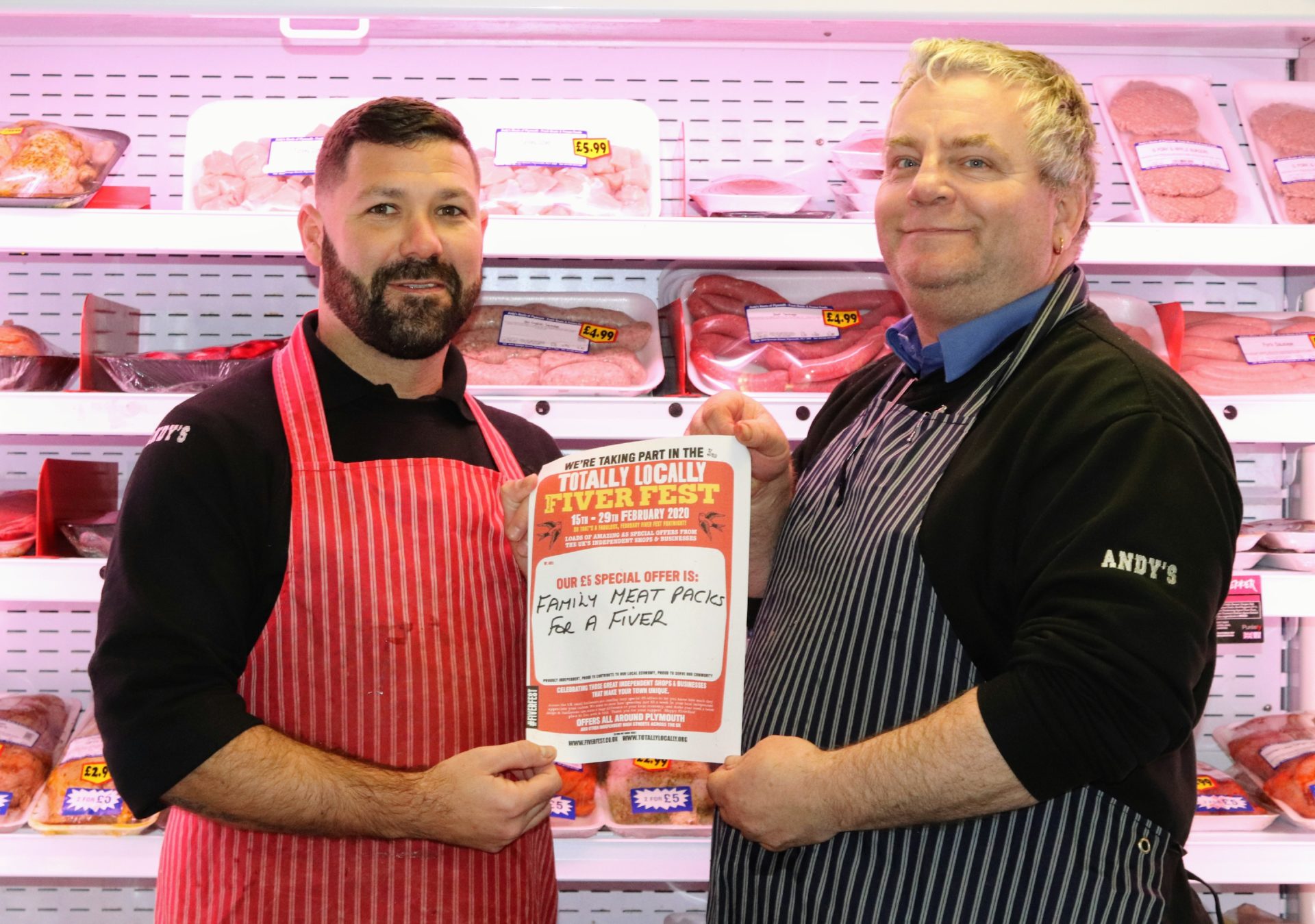 Auction Finds South West
Auction Finds South West is a treasure trove of antique, vintage and collectible items found at auctions in the South West, including trains, cars, model figures and collectibles.
And during FiverFest they'll have a bargain selection of one-off collectibles for just £5.
The stall in Plymouth Market specialises in collectibles from Hornby, Bachmann, Airfix, Scalextric, Dinky, Corgi and more.
During FiverFest, Auction Finds South West will have a dedicated area with goods for £5. They said: "All of our items are one off collectible items that will only increase in value in time if looked after. With interest rates so low, now is a good time to invest in collectible toys, especially Hornby Locomotives, Vintage Scalextric & Dinky Cars."
You will find Auction Finds South West in Plymouth Market at stall 129. Open 9.30am-4.30pm, Monday- Saturday (except Wednesday 3.30pm closing).
Cash Converters
Get £5 off every £50 spent during FiverFest at Cash Converters – the pioneer of buying and selling pre-owned goods in the UK.
Find an Aladdin's Cave of products including fine jewellery, home entertainment, DIY, sports kit, musical instruments and a whole lot more.
Cash Converters Plymouth can be found at 101-103 New George Street, 01752 266007 – open 6 days a week.
Cathy's Flowers 
Long-standing and much-loved Plymouth Market stall Cathy's Flowers is offering special bunches of blooms for just £5 during FiverFest – as well as £5 off the usual £15 bouquets.
Cathy's Flowers is floral favourite in Plymouth and provides fresh or artificial wedding bouquets, funeral wreaths and table displays, as well as plenty of special treats for you or your loved one. There's also teddies and chocolates to go with your gift.
Find Cathy at stall 123 in Plymouth Market, orders can be placed via phone 07812 117548 or email [email protected]
Cobblers & Keys
At Cobblers & Keys, Gordon and the team have more than 30 years of experience, combining traditional skills with the latest technology in cobbling.
Get £5 off when you spend £30 during FiverFest and save on specialist services such as shoe repair, key cutting, watch services, tool sharpening and engraving as well as orthopaedic footwear adaption and repairs.
All the services offered can be completed "while you wait" or on a next day basis.
Cobblers & Keys is found at 2 Market Way. Call 01752 257257, open 8.30am-5.30pm, Monday- Friday and 8.30am-5pm on Saturdays.
Drab to Fab
Find a fabulous selection of shabby chic finds for just £5 at upcycled furniture specialists Drab to Fab during FiverFest.
Specialising in creating new from old, Drab to Fab takes your unloved furniture and turns it into beautiful new centrepieces in a shabby chic style.
They also design and make personalised gifts and accessories as well as taking on custom commission pieces.
During FiverFest, Drab to Fab will be offering a selection of handmade items for £5. The stock will change throughout the week so be sure to pop by and see what goodies you can find.
Find them in Plymouth Market, at stall 10, call 07810 622055 or email [email protected]
Jar – Plymouth's Zero Waste Shop
Jar are Plymouth's first Zero Waste, eco refill station and shop. They have an incredible THREE deals to make the most of during FiverFest.
Get your hands on a "Spork and a Cork"- a reusable eco-friendly "spork" in its own cork carry case for £5 (normally £9). A selection of 8oz reusable bamboo cups £5 (normally £8.95) perfect for filling with any of Jar's products. And a tin of Tooth Tabs and a Truthbrush £5 (usually £10) to help you on your way to zero waste living.
Jar allows you to Refill, Refuel, Repeat on all your household dry foods such as cereals, pasta, legumes, rice, nuts and seeds, herbs and spices, tea and coffee, flour, sugar – as well as organic laundry detergents, shampoos and cleaning products.
Open 10am-4pm, Wednesday-Saturday. Jar can be found at 38 Looe Street, call 07708662251.
Kawaffle
Queen of the bubble waffle Sofie Taylor is debuting the new £5 Savoury Bubble Waffle at her much-loved market stall Kawaffle for FiverFest.
Kawaffle serve bubble waffles, cereals, luxury milkshakes and lolly waffles from stall 131. During FiverFest Sofie will be serving a different Special Bubble Waffle each day – some days savoury, some days sweet. The deals will be revealed on Facebook and Instagram each morning, each filled with fantastic toppings and will be one-offs during the promotion.
The Savoury Bubble Waffles are a first for the UK and will be available as vegan and gluten free. Fancy trying a Chilli Cheese Fiesta? Or the Mozzarella, Tomato and Basil? Head down to stall 131 in Plymouth Market this FiverFest.
Kiko's
Find authentic Egyptian-inspired wraps based on traditional recipes handed down through generations at Kiko's.
And specially for FiverFest the Plymouth Market stall will be offering an open buffet with Egyptian meatballs in tomato sauce, Egyptian Kofta, Egyptian chicken shawarma – all served in a box with rice for £5. There will also be equally delicious vegetarian options.
Kiko's offers freshly prepared meals whether you are a meat eater, veggie or vegan as well as serving Lavazza coffee in a chilled atmosphere with a "cool vibe".
Find them stall 9 of Plymouth Market.
Mama Rita's Kitchen
Mama Rita has been serving up her fresh and delicious Afro-Caribbean food to Plymouth for six and a half years. Creating fresh, fragrant, exotic dishes with love and dedication, Mama Rita delivers mouth-watering food and every dish offered contains at least one of your five a day; so not only is it delicious, but it is good for you too!
Throughout FiverFest, Mama Rita is offering either a Jerk or Fried chicken wrap and chips meal deal for £5!
She said: "I am very grateful for how supportive our customers have been, you are the ones that keep us going and I thank you all"
Open 11am-7pm, Monday-Wednesday and 11am-10pm, Thursday-Saturday. Find Mama Rita's Kitchen at 31 Market Avenue, call 01752 651708
Michelle Wood Home
Michelle Wood Home is bursting with unique, quirky and one-off pieces for your home or office space.
It's just opened in Plymouth Market in a stall share with Sally's Stall, which offers textiles and homemade cushions.
Michelle is offering a make-your-own spring garland kit for £5 for FiverFest – the perfect kids craft project for half term.
She works mainly with copper, concrete and driftwood as well as repurposing household and industrial plastic waste to make concrete moulds. Michelle even encourages plumbers and heating engineers to pass on copper pipe off-cuts for her to create items – so her work is sustainable and eco-friendly too.
Find Michelle Wood Home on stall 126 of Plymouth Market.
Moments Café 
Munch on Moment's Café's mouth-watering Moments Mini Breakfast with a mug of tea or coffee during FiverFest – for only £5.
Moments Café is a place to meet, eat and socialise, with all profits being used to sustain Memory Matters, a charity for supporting those affected by dementia.
Their amazing offer applies to the vegetarian version of the mini breakfast as well and includes a small Americano, mug of tea or cold drink for £5. Order before 11.30am, Monday to Saturday during FiverFest.
Find the beautifully decorated Moments Café at 69a New George Street or call 01752 219810. Open 9am-5pm, Monday to Saturday.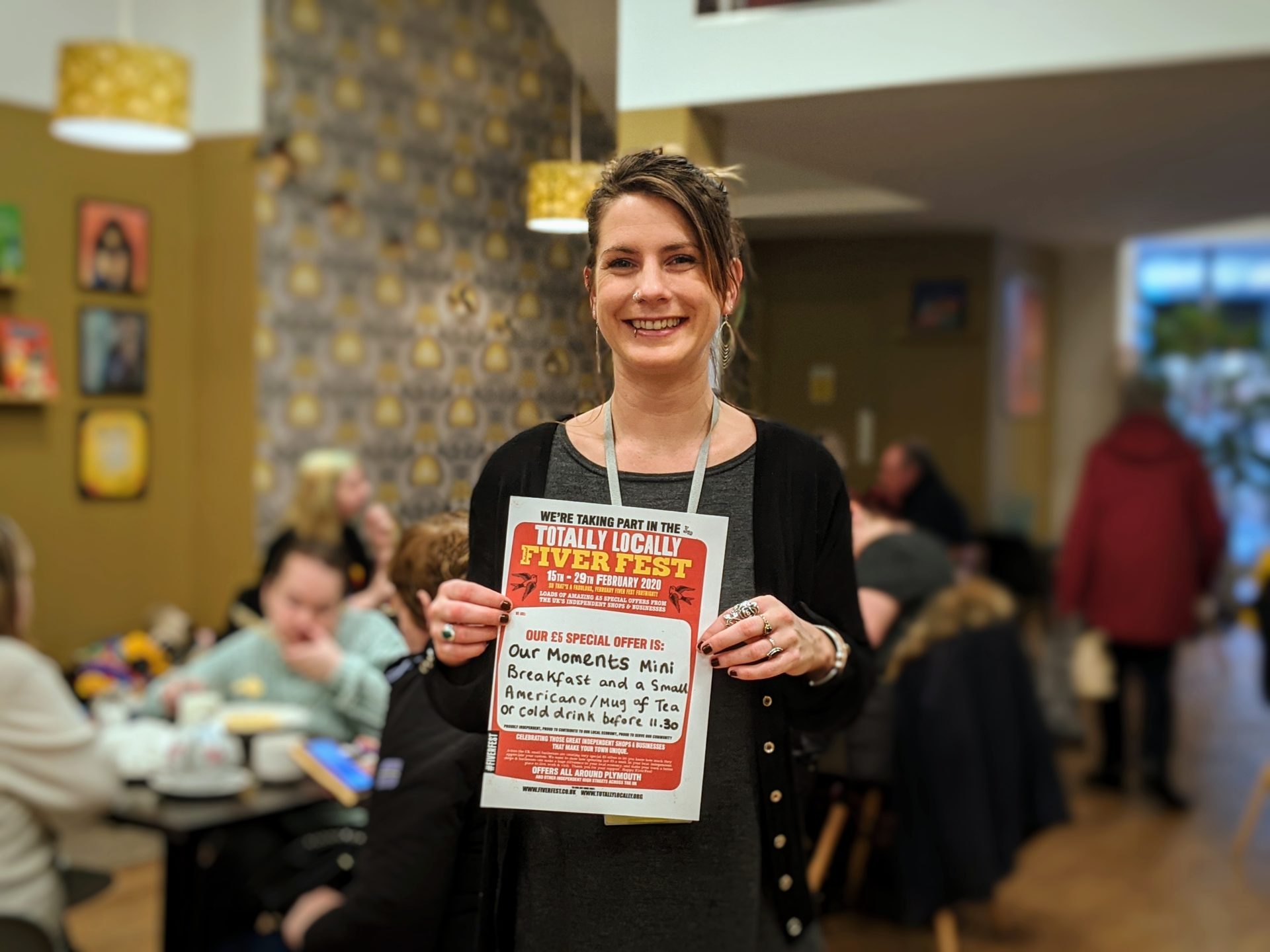 More Than Mobility
More Than Mobility is an independent mobility specialist providing quality, affordable daily living aids for those with mobility needs.
They'll be offering a range of products for £5 or less during FiverFest in the store, which is packed full of aids and equipment such as mobility scooters, wheelchairs, rise, recliner chairs and adjustable beds.
Find them at 139 Cornwall Street, call 01752 673367 or visit morethanmobilityplymouth.co.uk.
Nolly's Crafts & Gifts 
Find exquisite crafts and gifts for only a fiver during FiverFest at Nolly's – including a huge Nemesis Now jigsaw puzzle with 1,000 pieces that usually sells for £19.99!
Nolly's prides itself on being the premier independent outlet for crafts and gifts for Plymouth's West End. As well as a range of in-house produced jewellery by NollyCat Designs, they also promote other talented local crafters who offer their creations in the store.
Other FiverFest offers include Lisa Parker light-up door stops – usually £10 but on only £5 in February half term. Find them at 110 Cornwall Street, call 01752 975614. Open 9.30am-5pm, Monday- Saturday.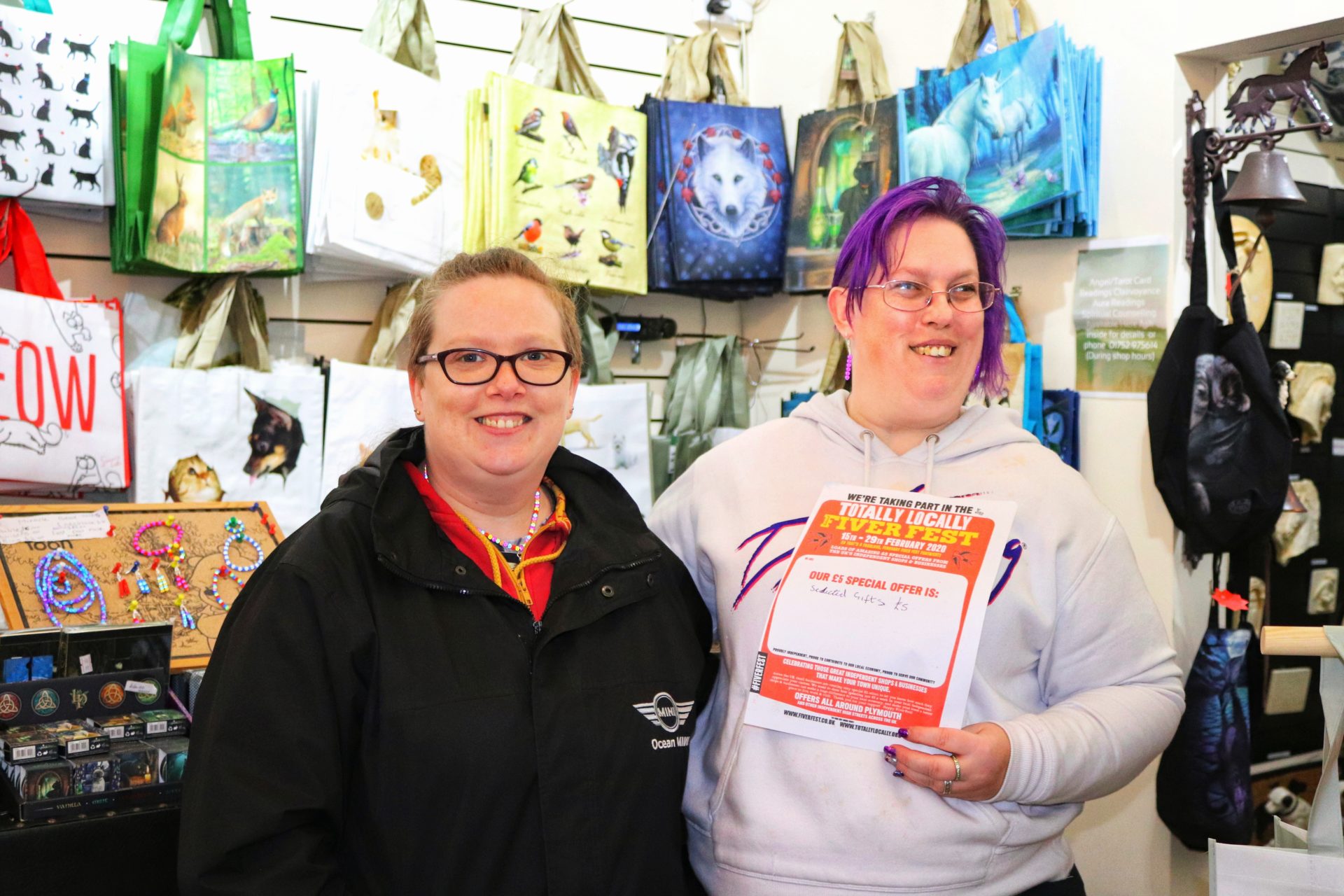 Pound Kitchen
Pound Kitchen is offering fantastic value fruit and veg boxes for just £5 for FiverFest. The shop, based in Frankfort Gate, offers a range of fresh produce as well as plenty of groceries – all for just £1 an item.
During February half term, they'll be unveiling their new fruit and veg boxes – putting together some of their best loved items into one big healthy box that's packed with value.
The shop, part of the local Tamar Fresh group, sources much of its produce from around the region – often taking surplus fruit and veg that the supermarkets don't want or need. There's no difference in quality – but a big difference in price! The shop also sells refillable litre milk bottles and freshly ground coffee for just £1.
Find Pound Kitchen at 20 Frankfort Gate, 01752 227933.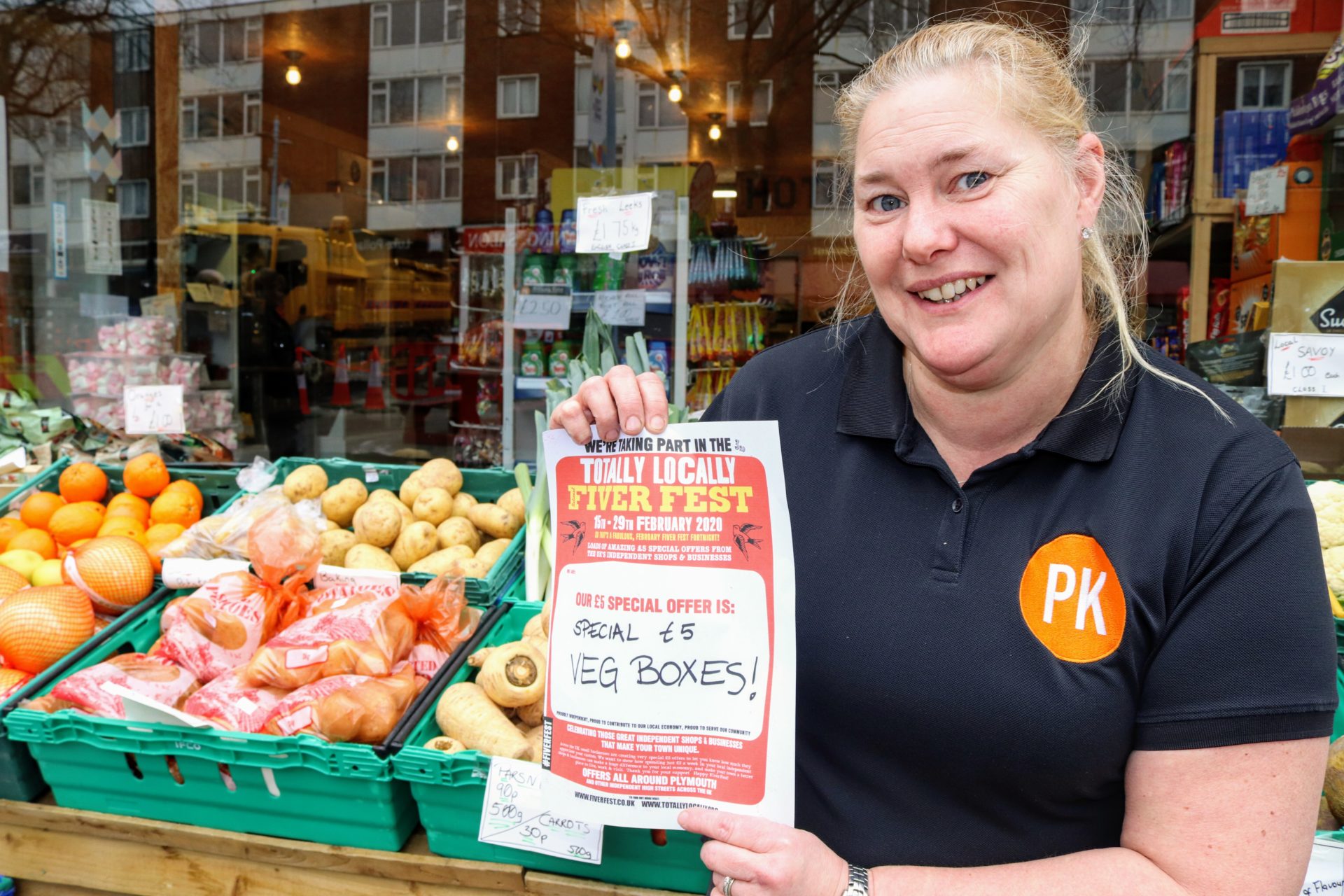 Posy Charm
Posy Charm creates beautiful hand-wired silk flower bouquets and hair corsages for all occasions, leaving long-lasting mementos of special occasions.
And for FiverFest the pretty market stall is offering £5 off in-stock hair corsages – usually priced £9.99!
Posy Charm also stock children's christening and party dresses – including vintage designs in wool and fabric. They also take custom orders to match any outfit with fabrics in many shades available, as well as designing corsages on hair bands, combs and on soft lace bands suitable for babies.
Find Posy Charm at stall 11 in Plymouth Market or email [email protected] for more information.
Sarah's Selections
Providing 'beauty for less', Sarah's Selections offer great make up brands at value prices. Whether it's a whole new make-up look or just a new nail varnish, Sarah's Selections has something for you.
Throughout FiverFest Sarah's Selections is offering a bag of popular products for £5 or pick and mix 3 items for £5.
Find them in Plymouth Market at stall 105 or call 07377469773.
Slippers Plymouth 
The much-loved shoe shop Slippers also specialises in high quality workwear – and during FiverFest it will be offering two hi vis vests for just £5.
The vests come with a touch of Velcro and are available in adult and child sizes – plus there are plenty of other items for under £5!
Slippers is the top three best rated shoe retailer in Plymouth for three years running, the only stockist in the city of genuine handcrafted soft sole moccasins and handcrafted moccasins, along with general footwear, safety footwear and lawn green bowling shoes.
Slippers also stock PPE safety footwear and workwear including nurses' tunics, tabards and catering clobber and hi vis clothing with brands including Northwest Territory, Portwest, Grafters, Warrior, Stansafe, Beeswift and Leo Textiles.
Find them in Plymouth Market at stall 24 or call 01752 600830. Open 8am-5pm, Mondays-Saturdays (except Wednesdays, when Slippers is open 8am-4.30pm)
Tantuni
Tantalising, tasty and fresh Turkish wraps are on offer for the delicious price of just £5 for FiverFest.
If you love Turkish street food, then look no further than Tantuni. With fresh flavours and ingredients combined with traditional recipes, the street food stall serves authentic dishes and real Turkish tea and coffee to eat in or takeaway.
During half term and FiverFest, you can get your hands on a delicious fresh chicken or veg/halloumi Tantuni for £5 or a Turkish Menemen with Kofte for £5. Menemen is a traditional dish made with eggs.
Tantuni is located on stall 63 at Plymouth Market. They also operate a loyalty scheme worth checking out.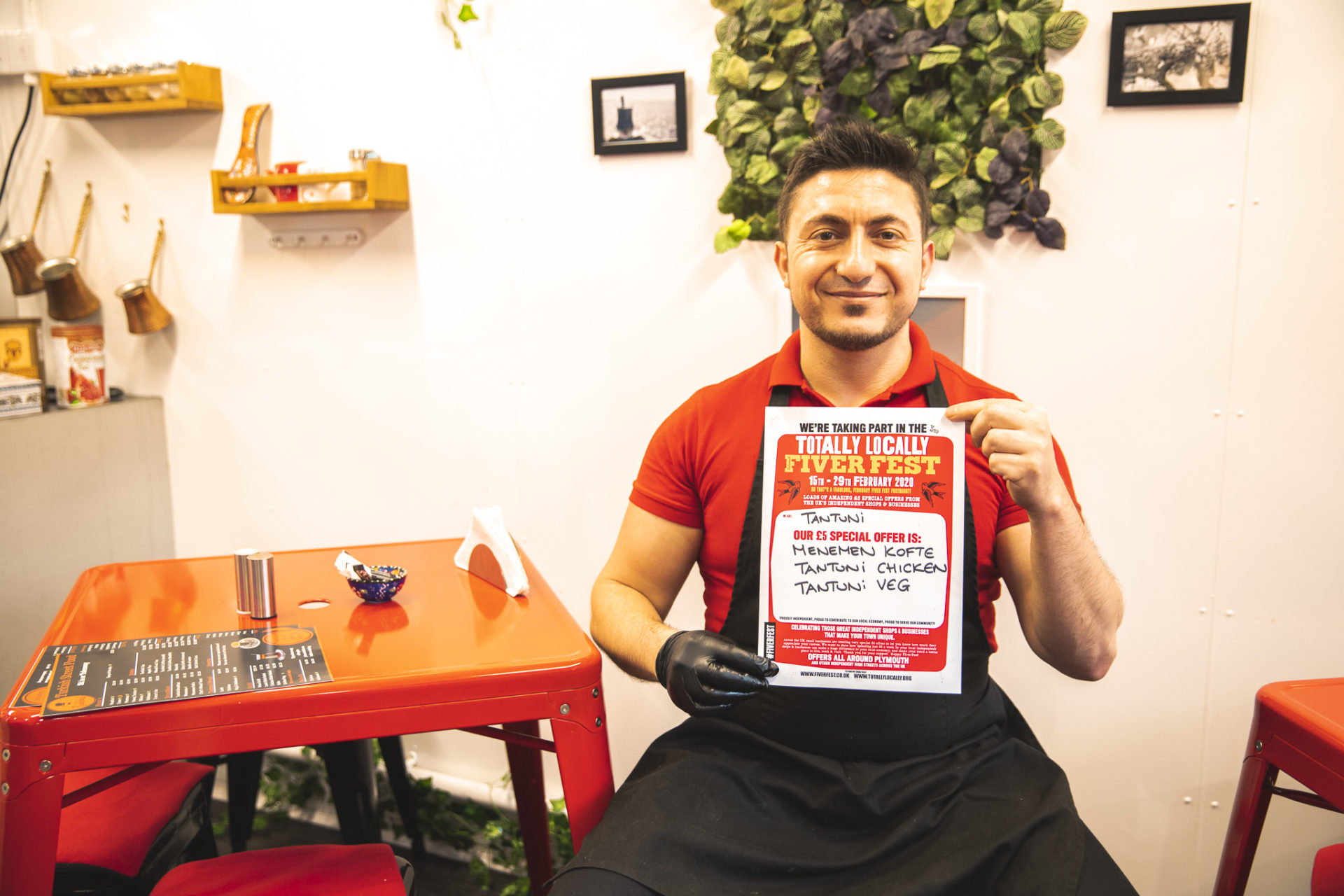 The Butter Fudge Company
Savour 250g of delicious buttery handmade fudge for just £5 during FiverFest – all made using only the best local ingredients.
The Butter Fudge Company developed and perfected its recipe more than 20 years ago with superb ingredients, including butter from Trewithen Dairy in Cornwall.
Choose from flavours ranging from traditional Madagascan Vanilla to the unique Matcha Tea & Pistachio.
For the duration of FiverFest, The Butter Fudge Company are giving 250g of handmade butter fudge for £5 (usually 200g for £5), that's an extra 50g of artisan fudge for free.
Find them in Plymouth Market where orders can be taken for special occasions or wedding favours – or even a wedding cake made entirely of fudge!
The Flower Bar
Brighten someone's day with a beautiful bouquet of bespoke arranged flowers – on offer for just £5 at The Flower Bar during FiverFest.
Aiming to be as eco-friendly and sustainable as possible, The Flower Bar uses paper and natural raffia instead of cellophane and ribbon for its fresh flowers.
They famously promise a huge array of blooms at their Plymouth Market stall – with no order too small or challenge too big.
Stall 46 in Plymouth Market is home to The Flower Bar, 01752 223917 or email [email protected]
Hangry Plymouth 
Created with a vision of curing Plymouth's hanger, Hangry Plymouth takes pride in using local ingredients to serve everything from chicken and waffles, delicious vegan options and classic English fry ups with a twist.
Hangry will be offering a variety of Toastie Melts for £5 during FiverFest with flavours changing daily. Takeaway or eat-in available.
Swing by for a Hangry Toastie loaded with melted goodness, meaty, vegan and veggie options available.
68 Ebrington Street (just a short walk from Drakes Circus), 01752 262618
Open Tuesday-Sunday (check https://www.hangryrestaurants.co.uk/ for times).
The Kawaii Store
The word 'Kawaii' means 'cute' – and that's definitely the right word to describe Devon's only Kawaii store, which is packed with super-cute novelties that are sure to put a smile on your face.
This wonderful stall specialises in Japanese and Korean novelty gifts, K-Pop, stationery, toys and much, much more.
Throughout FiverFest, The Kawaii Store will be offering a whole selection of goodies (that would normally cost £7 when bought separately) for just £5!
Pick up a pen, 10 cute stickers and a small keyring – and we'll throw in a box of Hello Panda chocolates, too!
You'll find The Kawaii Store at stall 138 in Plymouth Market.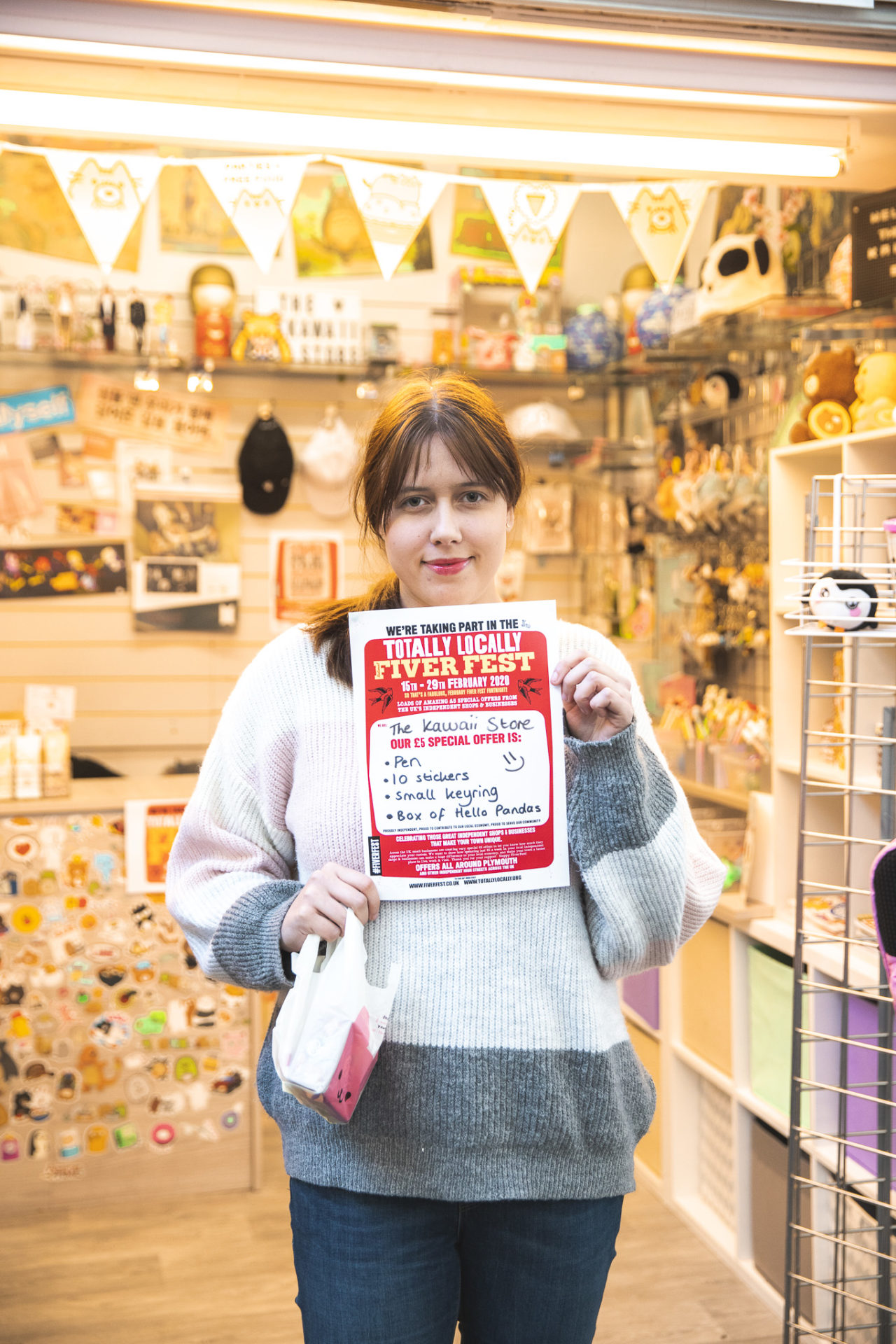 The Shellfish Deli
Visit The Shellfish Deli and discover a stunning selection of fine, fresh seafood – including lobster, crab, prawns, salmon, cockles, handmade pates, soups and smoked goods.
The experienced team have been handpicking chunky brown and white crab meat for more than 26 years, so they truly know how and where to get the best crabs.
And if you'd prefer to cook and prepare your crab or lobster at home, the Deli also has a holding tank so you can pick your own.
Throughout FiverFest, you can get your hands on two handcrafted delicious pates for the special price of £5 (usually £3.25 each). Choose from Smoked Salmon, Smoked Mackerel and Crab.
The Shellfish Deli is located in the central aisle of Plymouth Market at stall 117.
The Sweet Stall
Looking like a scene from Charlie and the Chocolate Factory, The Sweet Stall is Plymouth's go-to place for all your sweet-tooth needs!
Feast your eyes upon jars filled with sweets of all kinds – from toffees to hard-boiled, and liquorice to jellies – not to mention all your classic pick 'n' mix favourites, and so much more!
During FiverFest The Sweet Stall has two fantastic offers for lucky customers. Either pick a basket of sweets; or select three giant cables, one drink, one candy floss bag, one lolly and one fudge bar – all for just £5!
Stall 79 in Plymouth Market is home to The Sweet Stall, 07714 865519 or email [email protected]
Tilt Plymouth 
Bringing a taste of the 'American Dream' to Plymouth Market, Tilt offers hungry diners delicious, freshly cooked sliders and loaded fries – all made using local ingredients, where possible, including homemade dips and sides.
Throughout FiverFest, you can get your hands on any two mix-and-match sliders from the selection of 18 different flavours for just £5 (usually £3 each).
With chicken, beef, fish and vegan options included in the offer, there's certainly something to suit everyone's taste buds.
Tilt also offers delivery via Deliveroo and UberEats, and can be found on the ground floor of Plymouth Market, [email protected]
Made For You Gifts
Specialising in quality laser-engraved and sublimation printed products, this super store prides itself in being the South West's premier destination for bespoke personalised gifts.
At Made For You Gifts, you'll find everything from Scrabble frames to cufflinks and keyrings, guaranteeing the perfect present for all occasions.
The team even offers same-day personalised engraving on products, so there's no need to wait for delivery.
Throughout FiverFest, you can pick up your very own personalised number plate keyring for just £5 (usually £10).
Made For You Gifts is located at 8 Frankfort Gate, 01752 224753 or visit https://www.madeforyougifts.uk/
Sally's Stall
Offering handmade home furnishings with a vintage feel, Sally's Stall has a tried-and-tested motto: "Recycled, reused, reloved".
With a custom made-to-order service, this emporium of style and country house chic stocks beautiful handmade cushions, tea cosies, gift bags and vintage 'finds' to brighten and refresh your home.
Throughout FiverFest, Sally is giving not one, not two, but three chances to save! For just £5 you can pick up two egg cup cosies (perfect for Easter); a small cushion; or three fabric gift bags (great for the environment. Sally can also take commissions for these offers.
You'll find Sally's Stall with Michelle Wood Home on stall 126 in Plymouth Market, email [email protected]
The Snack Box 
Discover fast food and friendly service at The Snack Box, where all food is cooked freshly to order while you wait.
The menu has all the dishes you expect from a fantastic café, including jacket potatoes, baguettes, salads, omelettes and all-day breakfasts.
There are also charging points for phones and laptops available, as well as free Wi-Fi for customers.
During FiverFest, The Snack Box has a choice of offers for just £5: two double egg / bacon / sausage baps or sandwiches; or a Burger Meal Deal (beef burger, chips and a drink) for £5.
The Snack Box Café is located at 7 Market Road, 01752 663323.